ATW - Description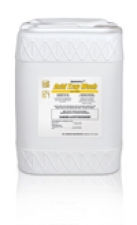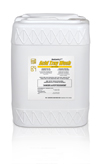 BIOSENTRY ATW is an acidified, non-foaming cleaner for washing trays, plastic chick boxes, egg cases and filler flats in automatic tray washers. It is also an excellent acidic rinse and equipment descaler.
► Low foaming
► Acidic detergent (descaling)
► FORMAT: 18.9L & 208L
ATW - Features and Benefits
► Low foaming
► Acidic detergent (descaling)
► Safe for use on plastic, glass, stainless steel, mild steel, and galvanized metals.
► 2 to 18mL/L
► FORMAT: 18.9L & 208L
ATW - DIRECTIONS FOR USE
FOR AUTOMATIC WASHERS:
Use a 0.25%-0.75% solution (1/4-1 ounce per gallon of water) (2-8 ml/litre) in tepid to hot water (110°-160° F or 42°-70° C). Vary the amount depending on the soil load, water quality and water temperature. After cleaning with BioSentry® Acid Tray Wash, follow-up with an appropriate disinfecting solution. Consult your BioSentry® Technical Representative for recommendations. This is especially effective for use with chick processing tray washers.
FOR DESCALING TRAY WASHERS, EGG WASHERS AND SIMILAR EQUIPMENT:
Use a 0.75%-4.0% solution (1-5 ounces per gallon of water) (8-40 ml/L), and operate the equipment without adding any items to be washed. Cold water is satisfactory for descaling.
AS AN ACIDIFIED RINSE:
To prevent hard water and detergent spotting of items or lines previously cleaned with an alkaline detergent, add BioSentry® Acid Tray Wash to the final rinse water cycle.
PROGRAM FOR ALTERNATING CLEANERS:
One week out of every 4-8 weeks, pending water hardness. Use in place of regular tray detergent to keep machines and nozzles free of scale and detergent residues. It also removes mineral scale and detergent residues from washed items.
FOOD PROCESSING PLANTS:
Use BioSentry® Acid Tray Wash for cleaning hard surfaces and equipment. For food contact surfaces, rinse well with potable water before reuse. Avoid contamination of food during application and storage.
Vetocontact
Access restricted to veterinarians