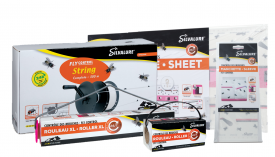 The environmentally-friendly and non-toxic way to control flies!
The powerful Silvalure System® is the result of intensive scientific research, field trials, and more than 25 years in fly control experience. The combination of Silvandersson's long-lasting glue and patented 3D design makes the Silvalure System® uniquely qualified to suit all your fly control needs.
Silvalure® fly control products are designed to provide the best possible effect with a minimal impact on the environment.
Safe and easy to install
Around the clock fly control
Non-toxic
Environmentally-friendly
Available in a variety of formats and packaging to suit all your needs
Vetocontact
Access restricted to veterinarians