Hyperox - Description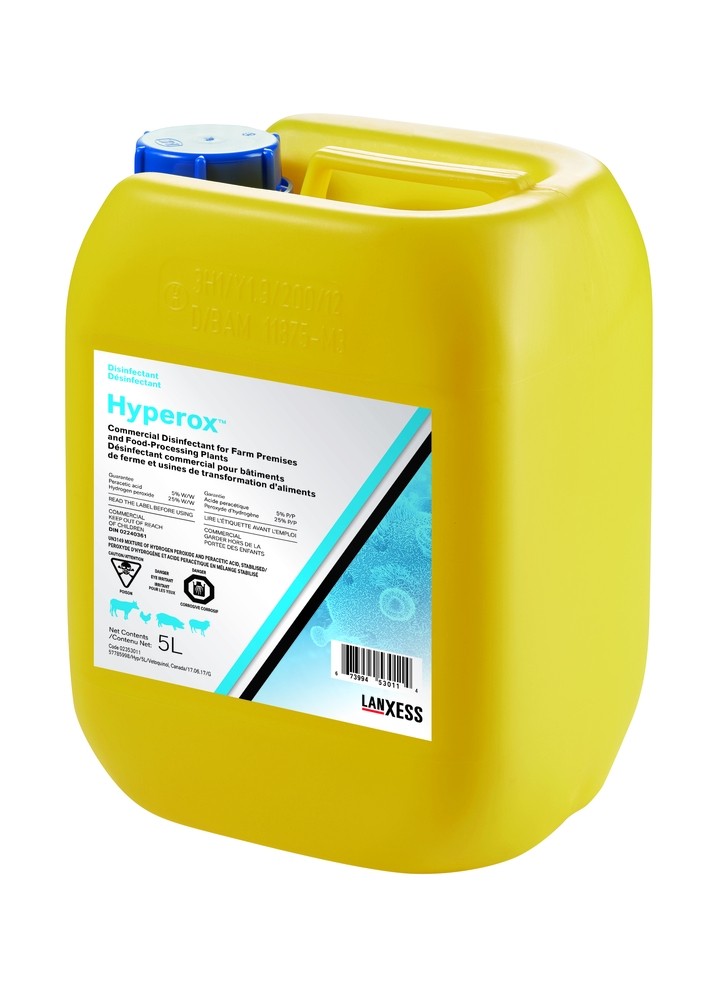 HYPEROX® consists of a blend of peracetic acid, hydrogen peroxide, acetic acid and surfactant in a long lasting stabilized aqueous solution.
HYPEROX® has a broad spectrum biocidal activity and is non-tainting, does not leave residues after application and degrades to acetic acid, oxygen and water, each of which presents low environmental hazards.
Available in 2 practical formats : 5 L and 20 L format.
Hyperox - Features and benefits
HYPEROX® is a germicide indicated for disinfection of surfaces and equipments. For routine disinfection of hard non-porous surfaces like floors, walls, concrete, plastic, stainless steel, glass, enameled surfaces, tile and any other hard non-porous surfaces which are not harmed by water. It may be used as a spray through pressure washers or spraying apparatus, in wheel or foot dips, or as a mist.
• Low application rate
• Stabilized formulation
• Exceptionally effective at low temperatures (4°C)
• Non-tainting
• Readily biodegradable within the environment
Hyperox - Directions for use
For routine disinfection of non-porous surfaces such as floors, walls, cement, plastic, stainless steel, glass, enameled surfaces, tiles and all other non-porous hard surfaces that cannot be damaged by water.
• Farm premises: 4 ml /L
• Food-processing plants: 8 ml /L
• Disinfection of equipment: 8 ml /L
• Disinfection of foot and wheel dips: 8 ml /L
• Disinfection of water systems: 8 ml /L
• Disinfection by fogging: 100 ml /L
Vetocontact
Access restricted to veterinarians